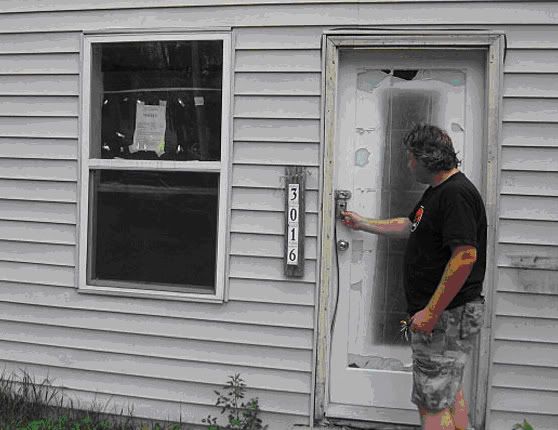 (Photo by Brandt Williams/MPR)
Here is more on the behind the scenes wheeling & dealing of real estate investor, Johnny Northside.
Johnny writes so much on his blog that he often forgets what he has said before. Here he contradicts himself when talking about his house (and his real intentions).
The editorial comments are seen in

red
The following was copied directly from Johnny's blog that was posted in April, 2008. Note how real estate savvy Johnny is when he refers to an "Escrow Officer" as "the title person."
"The title person said something about, did she hear right? This was NOT an investment property? I had plans to fix it up and LIVE IN IT? And when I answered in the affirmative, she said, blinking a bit, "How does one LIVE in a $9,000 house?"
He's lucky there wasn't a mortgage involved. You see, when you tell the lender that it will be Owner Occupied and don't live in it...That is known as FRAUD.
Here he details how his house was not that bad at all...Certainly not something the city should bulldoze.
"But I'll say this much about the house, and why it was a bargain, and why I held it close to my chest and didn't reveal everything. The house has mostly plastic pipes instead of copper,

(Oh Johnny! He meant to say "PVC")

so the copper thieves didn't destroy the walls to get at the pipes...albeit they stole one little piece off copper off the top of the water heater.
It looks boxy from the front, but in the back there is a deck and...wonder of wonders...a large and empty yard, and a big mature tree. The house has a deck in the back. The carpet on the floors needs a good cleaning, but it's not nasty. Somebody started rehabbing and quit in mid-job, but managed to move the project along quite a bit

."
Does this sound like a condemned house the city should target to bulldoze? It isn't even boarded up!
This paragraph is from his blog post on June 26, 2008:
"For the record, I currently have a signed purchase agreement with a "non-slumlord" buyer promoting positive development in my neighborhood. I plan to buy another house on or near the same block with the proceeds from the sale."
A signed purchase agreement with...The City? What was the price? I am sure there are lots of people who would like to see that. If not with the city, why was that contract canceled?
The following is quoted from an article on MPR by Brandt Williams on August 5, 2008:
Note how Johnny makes no mention about his intentions to LIVE in it.
"Earlier this spring he bought one of the abandoned homes on the block for $9,000. Hoff planned to either fix it up or tear it down, but instead he sold it to the city.
"I consider myself, a benevolent

flipper,"

said Hoff."
While Johnny Northside may be doing some good things for the area and residents who ACTUALLY live there, this post clearly shows that he is in it for the money and what he tells the public is not always truthful.